Austerhouse Indigo Home Office.
Austerhouse High Gloss Home Office.
High Gloss Cream And Walnut Office.
Dark Grey Gloss And Grey Wood Office.
Black Gloss Office Under Eves.
Sliding Door Fitted Study Volante Cashmere Stonegrey Driftwood 1200.
Light Oak And Dark Grey Office.
Home Offices
Every year more and more people are working from home either part time or full time. Having a dedicated, well designed and ergonomic workspace can transform your experience of home working, boosting both productivity and wellbeing.
We can work with you to specify the workspace features that are to your exacting requirements. Perfectly designed spaces for you to work in with efficient storage to keep you organised. We'll take the time to get to know you and your specific requirements so we can design something uniquely special.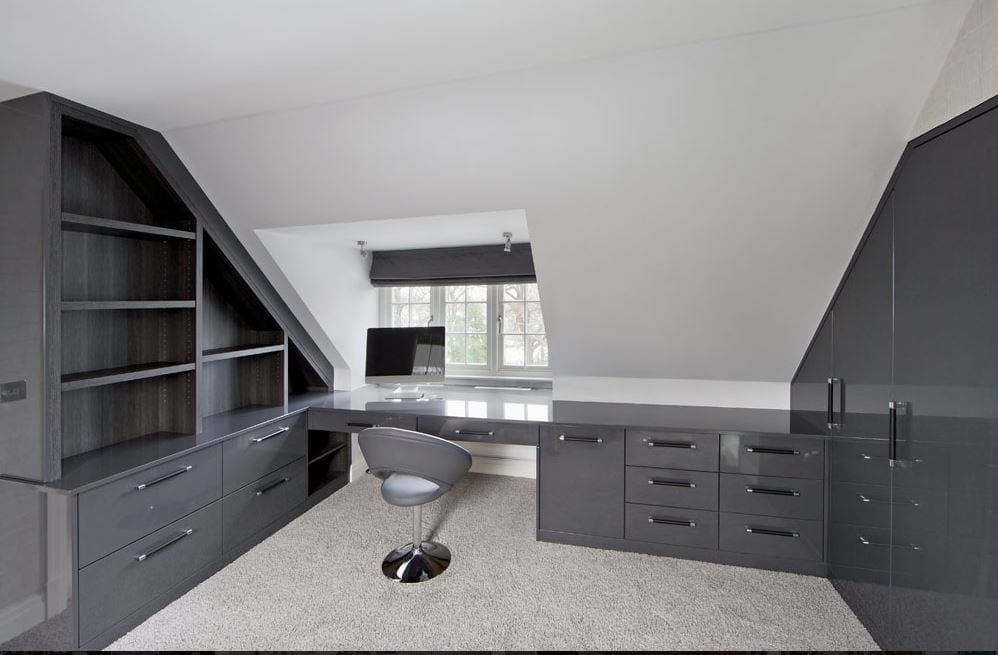 Transform Your Productivity At Home With An Ergonomic Working Environment
We have an enormous range of beautiful finishes you can select from- making sure your home won't look like you've just dumped the office rejects into your study. We'll make sure your working height matches your body height, provide hidden-under-desk cable tidy solutions, and can even supply matching monitor supports to lift your monitor to your eye level. Of course, we can design and supply as much open or hidden storage space as you need, with internal configurations to suit the unique requirements of your home office- we can hide the printer, provide file suspension drawers, and cupboard door locks should you require.
Whatever space, we'll carefully measure it and accurately transpose the dimensions into a CAD system so you can see your exact layout and finesse the design to your exacting requirements.