Goscote Classic Wood Bedroom (2)
Goscote Classic Wood Bedroom.
Goscote Traditional Wood Bedroom 1.
Goscote Modern Wood Bedroom 1.
Austerhosue Mussle Matt & Wood Classic Bedroom
Wood Bedrooms
Wood and wood effect bedrooms are great choices for any bedroom. Whether you are opting for a more traditional room with wooden shaker-style wardrobes or want to create an eco sanctuary by introducing natural elements, wooden furniture can achieve a plethora of bedroom styles.
We can work together to specify your preferred style and storage options in order to create your dream wooden bedroom that is unique to you.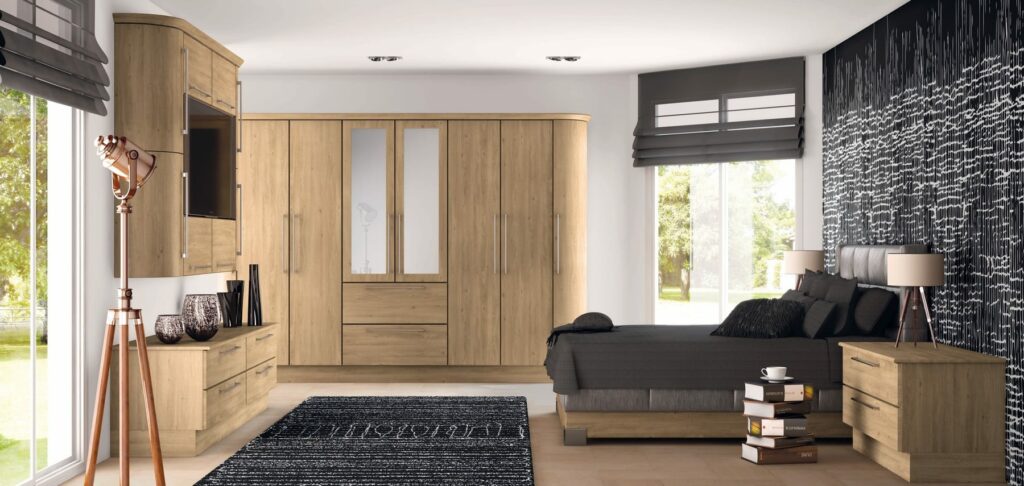 The Unmistakable Beauty Of Wood
Oak, Walnut, Maple, Cherry, Macassar and more. Either as real wood, or our fabulous range of textured wood-look doors that will leave you speechless at the similarity to natural wood. Our range is extensive, also including a wide spectrum of painted wood finishes, and even bespoke colours should you want one.
Please note, all of our wood finishes can be combined with our other finishes too.